Give Thanks, Give Back!
Holiday events can take many shapes and forms from dinners, outings, gift exchanges and so many other styles. But what about the community outside your company walls? What better way to give back to your employees than to create  an event that allows them to give back to their community in a big way! Create Event Design works hard to produce unique experiences that bring the community together,  gives back to your employees and brings the holiday spirit to those that truly need it. That feel-good, do-good attitude will enhance the spirit of each employee and bring a sense of equality throughout your company or organization.
So the question is…What can you do and how can you make it fun & exciting for your employees??
Create Event Design can create an experience that is unforgettable for your team! Select from some of our favorites and ask us about others that we can bring to your upcoming event!
Food drives with a creative team-building competition
Care packages for the Troops with a Creative Twist!
Soup Kitchen Dinner/Luncheon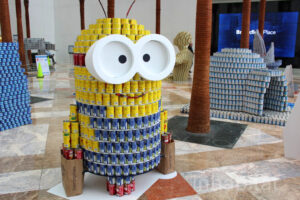 Creative team building event ideas
These community service events can also be a great way to involve your clients in giving back in a wonderful way! Skip the bottles of champagne, fruit baskets and chocolates this year as your client gifts, and plan an event that allows clients to join in on the fun. Invite them to be a part of your mission to "give back"! Clients love to see that the companies and/or vendors they are associated with,  stand for something more and care for their community as well as their employees!